Over the last decade, Elitis has been creating exceptional furniture for their most demanding clients. These exclusive designs, mainly leather upholsted, are the result of the cooperation between French luxury saddlers and passionate cabinet makers. Thanks to this expertise, Elitis is able to offer a tailor-made service, creating therefore unique pieces, just as French Haute Couture Houses would do. Each piece, assembled by hand, is unique and signed.

Le Deun Luminaires is a French Company specialized in high quality LED lighting. Le Deun offers a very elegant range of light fittings but also closely works  with designers and architects on high end private and commercial projects. Each piece is hand made in Le Deun's Parisian Atelier.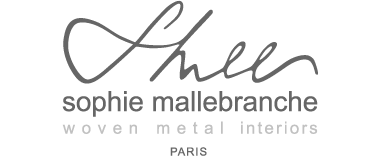 Sophie Mallebranche transmutes metal into textile. A weaving process that turns alloys and minerals into sources of light, sometimes supersaturated in colors. These 100% metal textiles have endless applications which include wall paneling, window treatments, space dividers and cabinet doors.